Information for the Class of 2023
Instructions for Graduates: Day of the Ceremony
Read the instructions for the day of the ceremony here.
Announcements
Students can order personalized announcements through Balfour.
Ceremony
The University of Connecticut School of Law will hold its commencement ceremony on the law school campus on Sunday, May 14, 2023. The procession will begin at 10:00 a.m. and the ceremony will begin at 10:30 a.m. The ceremony will last approximately two hours.
You must wear your full academic attire for commencement (cap, tassel, gown, and hood).
Commencement Program
The University has switched to a fully electronic commencement program, which is available online.
Livestream
Total Webcasting provides live streaming services for all of the University's commencement ceremonies.
Please click here to watch the live stream of the 2023 ceremony you'd like to view.
(The 2023 ceremonies will be added to the top of this page as we get closer to the events.)
To view the archives of live streamed ceremonies between 2016-2022, please click on the link and select the desired ceremony.
Photography
Flash Photography is the official photographer for the University's Commencement ceremonies. Proofs will be sent to the email address provided on the Name Reader cards distributed at the ceremonies shortly after graduation. Pictures can be ordered online or by phone. Flash Photography can be contacted via email or telephone.
Members of the audience using handheld cameras are asked to remain in their seats and keep the aisles clear.
Parking
Parking will be available in the school lots as well as neighboring lots (Attorney General's office, Hartford International University for Religion and Peace, CT Historical Society) and ample signage will be posted.
Regalia
To purchase regalia, visit the Hartford Bookstore location in person starting on Monday, April 3, 2023. Regalia will be available for purchase through April 10, 2023.
The online portal for regalia purchases is now closed.
Seating
Tickets are not required for the ceremony. Seating is not reserved and is available on a first-come, first-served basis. Guest seating will open at 9:00 a.m. There are over 1,000 seats available and will be more than enough for everyone.
Speakers
Featured Speaker
Deborah N. Archer, president of the American Civil Liberties Union and associate dean, co-director of clinical and advocacy programs, professor of clinical law, and co-faculty director of the Center on Race, Inequality and the Law at the New York University School of Law.
Student Speakers
Day Division: Seraphin Tala
LLM Division: Ching Yu Lin (Vicky)
Evening Division: Jim Motes
Contact Information
Livestream of the Ceremony
Can't attend the UConn Law commencement on May 14? We wish you could join us in person, but we're pleased to offer you the opportunity to watch the ceremony live online. You'll find the livestream on the Total Webcasting website.
---
All About Hoods and Hooding
Follow these instructions to fold your hood over your arm: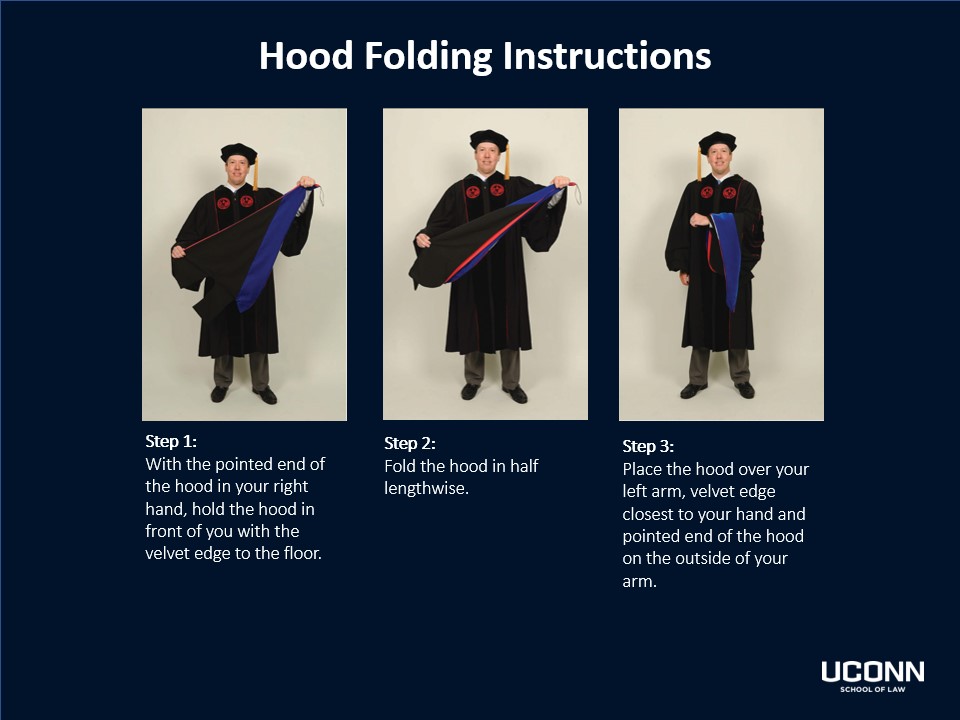 Here's how the hooding process will work on stage: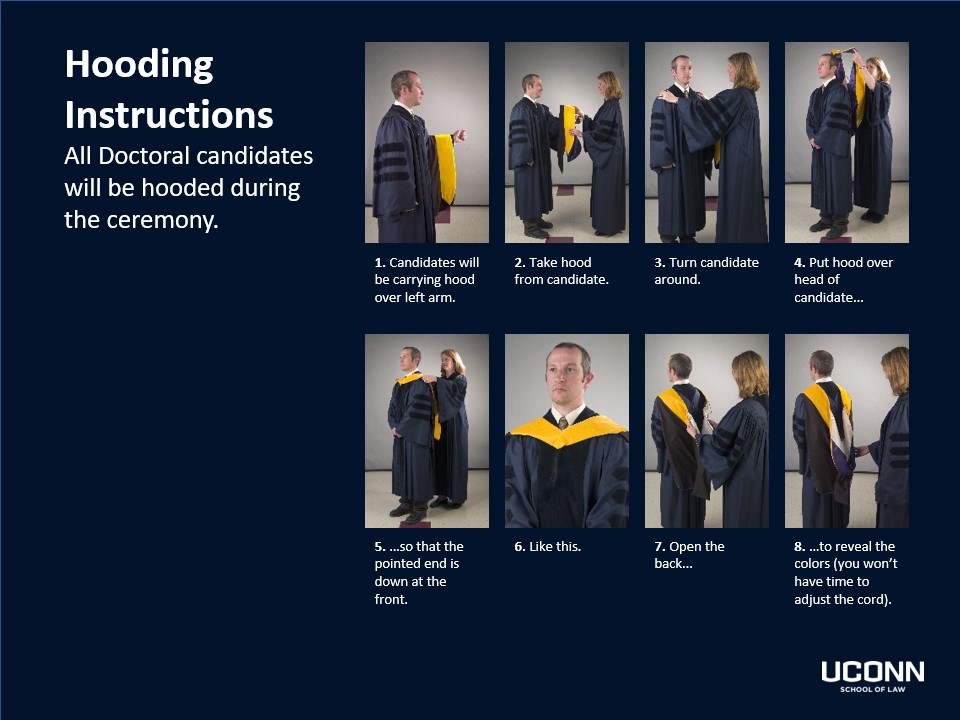 ---